With thousands of young people with learning disabilities locked out of their Child Trust Fund savings because no mechanism is in place for parents to access funds on behalf of their children, the mother of two describes how the dilemma is just a "drop in the ocean" when it comes to the trials of disabled people and their families.
Credit: Sky News
Many have explored going down the route of applying to a court of protection for a financial deputyship to manage a child's account. But parents have reported this as an expensive, laborious procedure which can leave families feeling exhausted from the process.
Although the Mental Health Capacity Act 2005 was created to protect those who can't make their own decisions, this technicality has left many teenagers stuck in limbo.
Here, she tells Sky News why finding help is difficult to navigate, and why the government needs to do more.
I am putting my job as a medical expert on my son's rare genetic disorder on hold to become a law expert these days.
That is because deputyship is the new and most important word for me, a word which means I can keep some control of his life as he becomes an adult.
I came across the first hurdle a few years ago when I discovered he couldn't have the same bank account as my daughter aged 17, which is for teenagers and offers a decent interest rate, because he is unable to sign the forms.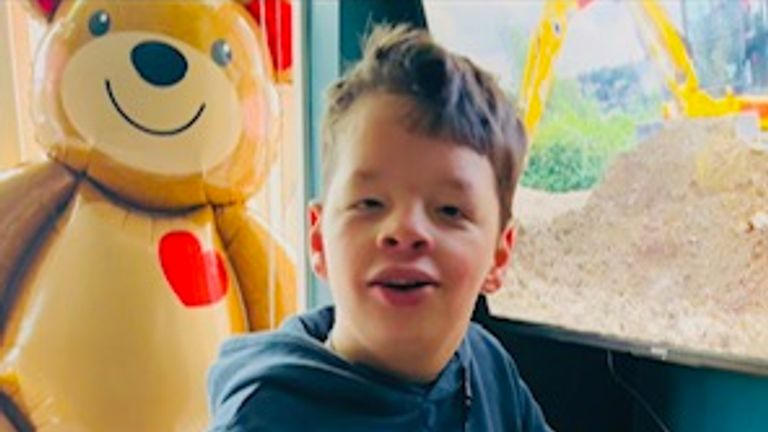 "Look at him," I said pointing at Curtis.
My son, Curtis, has the mental capacity of a one-year-old. He is in a wheelchair much of the time and displays challenging behaviour due to his complex needs.
"You'll need power of attorney," the bank clerk said.
But after doing some research, I discovered what I needed is deputyship, an altogether more complicated, expensive and stressful process. That's without factoring in the cost – it can be up to £5,000 with a solicitor to achieve.
There are two options: health and welfare, and financial deputyship. I soon learned that health and welfare is rarely obtained successfully by the parents. The financial deputyship route comes with the caveat of handing in annual reports of how you spend every penny of their money each year and an annual cost to keep the deputyship.
'There is lack of support navigating help – the systems are often buried'
I've been at this now for 15 years. I try to move with the curveballs, roll with the punches, but it takes a lot of work to maintain my mental health to manage it all.
Among all the admin, appointments and speedy expertise is the heartache and the agonising, dull pain inside for your beloved child who is living such a difficult life every day.
It is hard enough knowing that when he is ripping my hair out or hitting me it's because of how he feels inside – desperate, misunderstood and out of control in a way I will never feel. The physical pain he can inflict on me, at times, feels appropriate.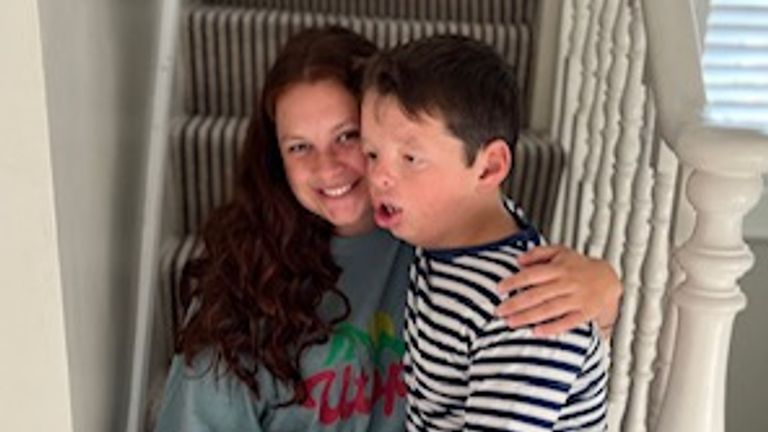 We have a welfare system set up in the UK that I'm grateful for and I'd never live anywhere else, as there is help out there. But there is also a lack of support navigating it. The systems in place are often buried, you stumble across what you need to do by luck much of the time.
To add to the various things we're navigating as a family, as Curtis becomes stronger, I have been researching residential options for the future. Choice is limited and the six schools I have contacted have so far have come back with similar replies: we have no space until 2025, he is too mobile, you need pre-approved funding before you can come and see the school.
Read more:
The challenges and celebrations of raising a disabled son
In the meantime, he is at a wonderful state-funded day school for children with complex disabilities and needs. He is taken there in transport and brought back. All of which I am so glad for.
There are other wins that might seem small but make a huge difference to our life. Our borough has a respite service for disabled teenage children and Curtis started to access it a while ago.
He stays overnight once a week and is loved and adored, as I'd want him to be. He has, at least, this part of his life all for himself.